We'll Never Let You Down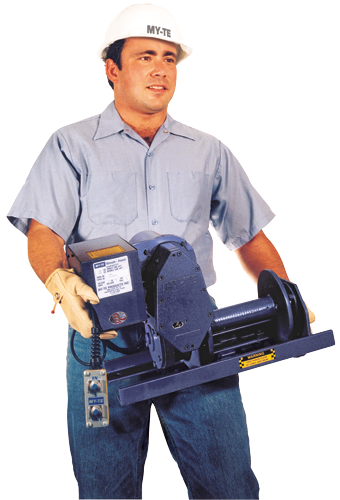 People who know My-te know one thing.
They know what reliable is.
It's not just our company that's running strong after more than 65 years. Some of our original-model winch-hoists are still in action too.
Going forward, as I step into my father Ross' shoes and look ahead to our future, I know our customers will also continue to recognize us for something else—our responsiveness.
Along with the product availability, job-site performance and competitive pricing that have always been a My-te distinction, our customers have also come to expect ongoing engineered product improvements and new services that make working and doing business with My-te a very satisfying experience.
As a matter of fact, virtually everything we've introduced recently has been a response to market demand, including a:
New wireless remote control and a new winch-hoist B-Series that features a triple-redundant brake system for improved load control and safety.
New on-staff sales engineer, offering applications and technical support direct from our factory to our distributors and customers in the field.
New database-driven, Web-enabled catalog that makes ordering easier than ever.
I'm excited and proud to be the third generation to lead our family business. And, whether you're new to My-te or a long-time customer, I'm pleased to say that the promise is as true today as it ever was: We'll Never Let You Down.
Brian King
President